Exploring winter magic with Alpha, the XL Bully.
Back in December last year Adventure Pawtraits launched a competition called 'Breed of the Month' to win an outdoor dog photo experience with your dog to celebrate different dog breeds. For the first month I chose Bullies as the first breed, being quite broad and including a lot of different breeds to create lots of excitement and get lots of entries, it was brilliant to see the love for these beautiful breeds.
In the enchanting backdrop of the snowy Biddulph Grange Country Park, I had the privilege of photographing Alpha, one of the first competition winners. Both Alpha and the surroundings were truly magical. Alpha's eyes sparkled like the freshly fallen snow, and her elegant physique and beautiful grey coat perfectly blended with the winter wonderland.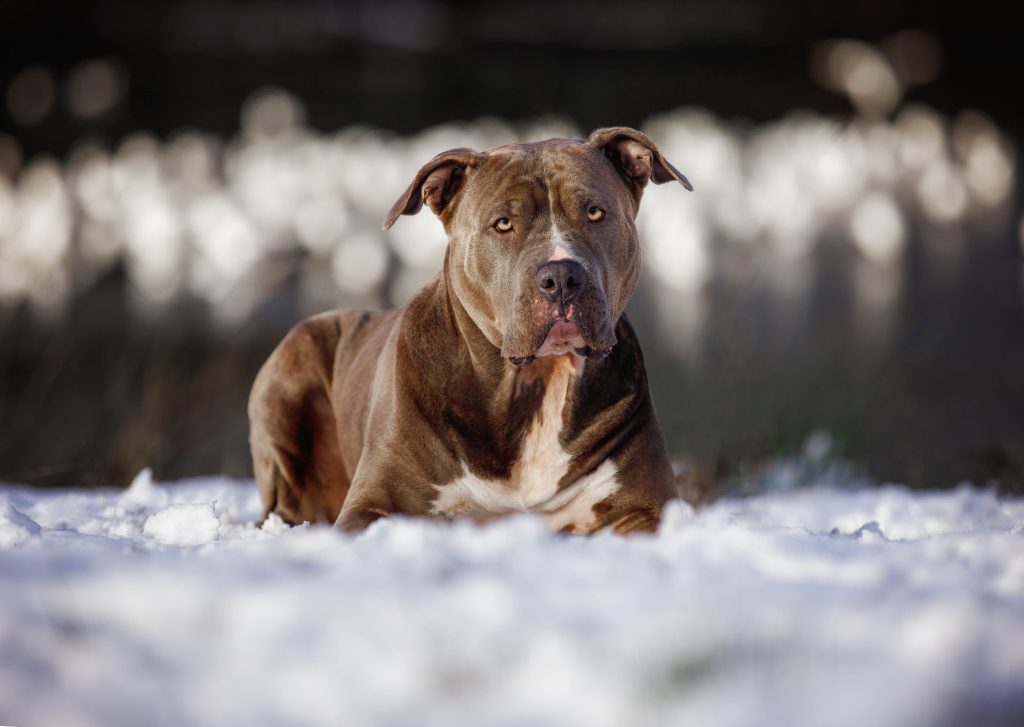 As I was capturing the essence of Alpha in the winter landscape, Amy began sharing a very heartwarming story with me of her visits to the nursing home where her nan lives. Amy's nan suffers from Alzheimers and this really hit hard for me as my dad passed away 4 years ago with this awful disease. It is truly remarkable how Alpha's presence has the power to bridge the gap between memories and bring light to her Nan's life, even if just for a little while.
This beautiful story serves as a testament to the incredible impact of animal-assisted therapy. It is well-known that interactions with animals can alleviate anxiety, uplift moods, and even improve cognitive abilities in individuals with dementia. Alpha's gentle character breathes a special kind of magic into the lives of the nursing home residents. Through her visits, she provides a sense of comfort and unconditional love that transcends the limitations of language or memory.
"Alpha now goes to the care home regularly and not only visits my nan but makes her way around to all the other elderly residents as well! I think she brings them all a bit of joy and that makes me so happy and proud!" Amy – Alpha's owner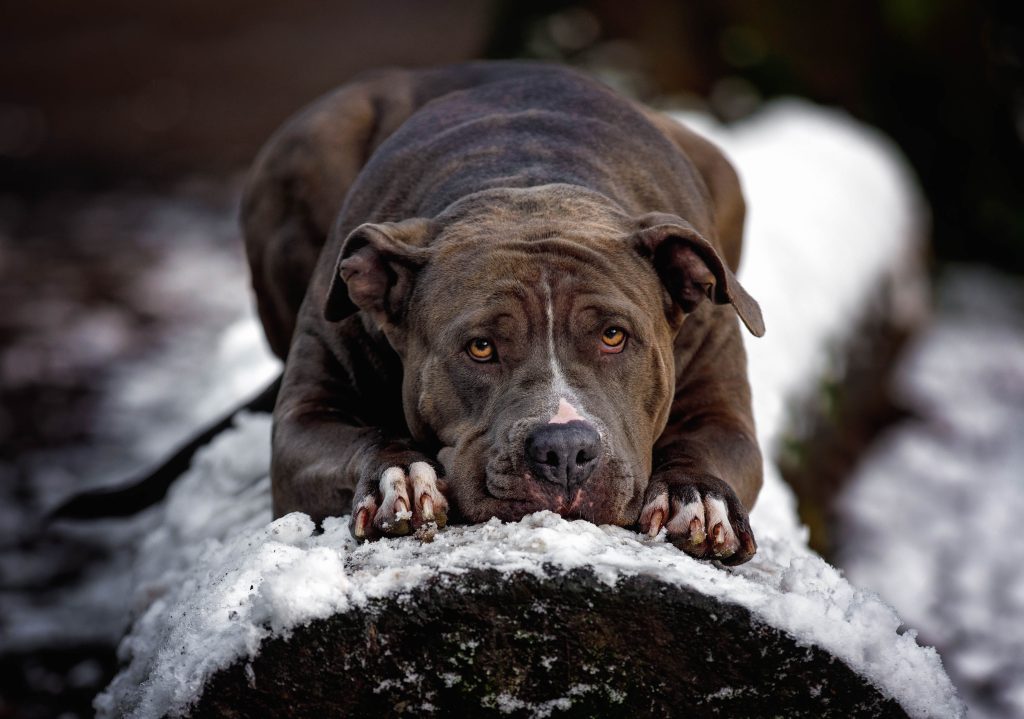 In addition to her therapeutic role, Alpha exemplifies the importance of responsible dog ownership and proper training. As we explored the snowy woods, Amy explained the effort she had dedicated to Alpha's obedience and socialisation.
"She has changed my life in many ways, she's taught me discipline and commitment because she has required a fair amount of training due to her size and strong minded personality."
Looking back at the time I worked with Alpha and witnessed the positive impact she had on her family, it reaffirms my belief that generalising breed-specific bans is misguided. While it is essential for owners to prioritise training and socialisation, breed bans fail to acknowledge the many exceptional individuals, like Alpha, who bring love, joy, and support to their families and communities. I don't want to focus this post too much on the XL Bully ban issue, but I will say this; I don't think anybody is denying the power and strength of these special dogs, but in the same way a Rottweiler or a Husky could have the potential to maul and a kill – in the wrong hands. I strongly believe that our dog loving community should continue to take a stand for a world where every dog is judged by its character, not it's breed type.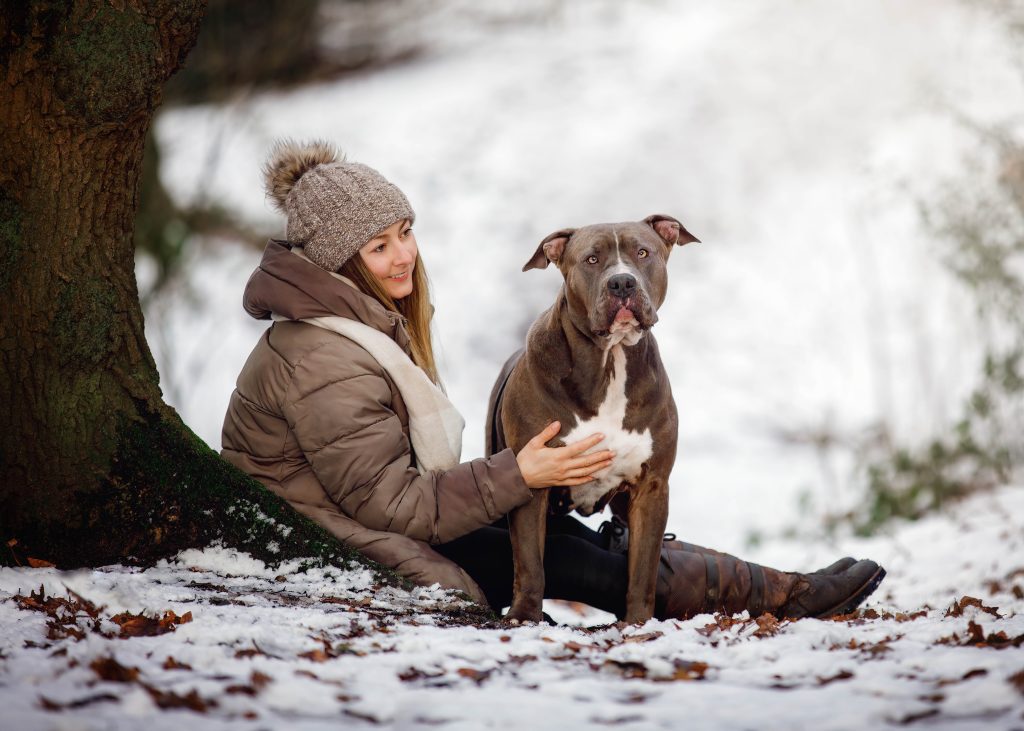 The photo experience allowed me to capture the sheer beauty of this remarkable XL Bully. The added discovery of her visits to the nursing home, where she spreads smiles and happiness, further deepened my appreciation for the profound impact animals have on our lives. Alpha's presence is a true gift, reminding us of the goodness that can be found in the world. As we navigate discussions around breed-specific legislation, let us remember the unique abilities and positive influence that dogs like Alpha possess, and work towards a more inclusive and informed approach to responsible pet ownership.
The snowy landscapes of Biddulph Grange Country Park provided an absolutely breathtaking backdrop for our photoshoot with Alpha. The resulting gallery of images truly showcases her character and has a dramatic and impactful aesthetic that is simply stunning. One particular image from the collection has become a standout piece in my samples collection and also won a Bronze award with the Guild of Photographers. The 30″ framed wall art sample captures Alpha so perfectly that it captivates and mesmerises everyone who sees it.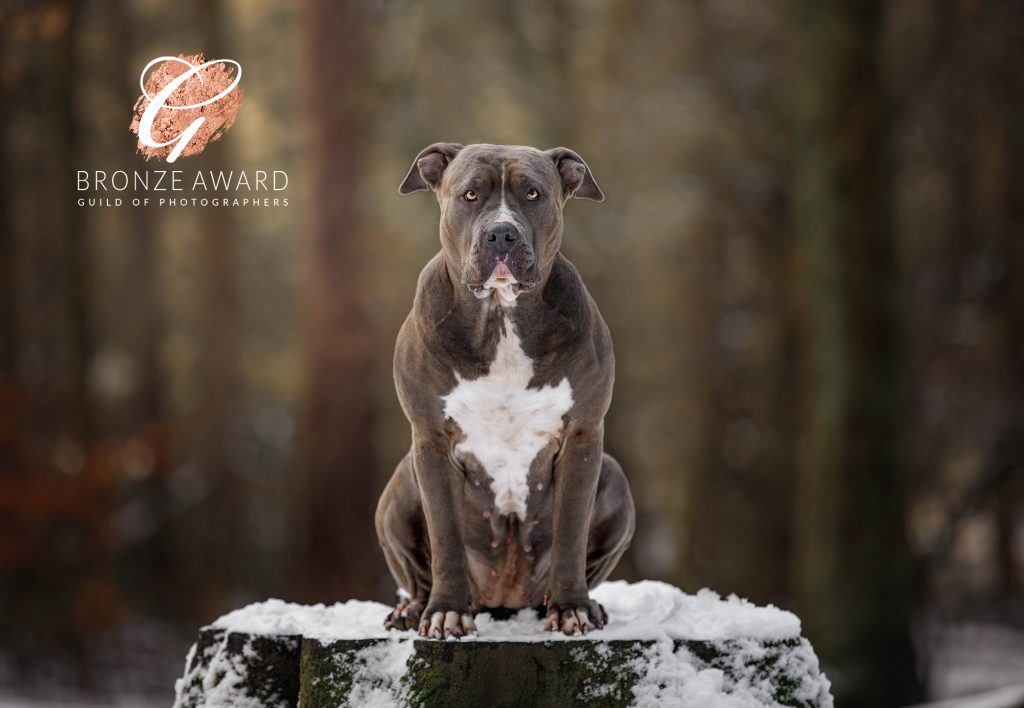 Amy now has a beautiful collection of prints that she can treasure for years to come. Each image serves as a cherished reminder of the special connection Amy shares with her extraordinary dog.
If you would like to transform your dog into magical wall art, I highly encourage you to book your own photo experience with me. Don't forget to check my Instagram and Facebook pages for updates on the latest Breed of the Month competition. It's an exciting opportunity to showcase and celebrate the unique beauty and personalities of different breeds, and who knows, your dog might just be the next star of the competition!
To book your photo experience and get more information on the competition, please reach out to me. Let's capture the personality and beauty of your furry companion in a series of breathtaking images that you will cherish for a lifetime.